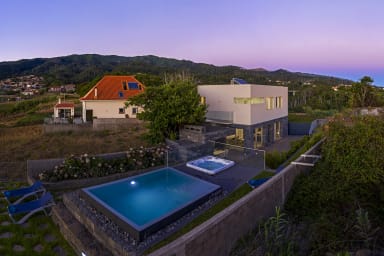 Pool and comfort in Fajã da Ovelha - Casa da Maloeira
House in Fajã da Ovelha, Calheta
---
4-6

People

2

Bedrooms

3

Bathrooms

1 WC
72m²
On the west side of the island, this beautiful house offers a swimming pool, jacuzzi and barbecue in a perfect and isolated setting.
Located in an agricultural area, this house underwent a complete renovation in 2020, transforming it into a contemporary property, with materials above average, in an architectural intervention of excellence.
Privileging natural light, the entire interior offers comfort. But most likely you will want to be outside the house most of the time. Framed with the sea and the mountains, the leisure area has a swimming pool, jacuzzi, barbecue, lawn and solar.
With two bedrooms on the 1st floor, both with double beds, and a sofa bed, this property has a maximum of 6 adults. It has three bathrooms, one on the ground floor.
Area
In the Maloeira site, in Fajã da Ovelha, you'll have peace. The countryside air is perfect to release all stress and enjoy moments of calm, in a kind of city 'reset'.
With great sun exposure throughout the year, the municipality of Calheta also invites to discover the Madeira.
In about a 20 minute drive you are in the centre of Calheta where you will find the yellow sand beach, several restaurants, a supermarket and the fantastic Museum of Contemporary Art.
Jardim do Mar and Paul do Mar are within a 10-minute drive. These two small villages offer their own beach, entertainment and beauty.
About 200 meters from the house is a small grocery store with fresh products.
Getting around
The best option to get to the apartment will be the transfer. Ask us to book one with our local partners. It is cheaper than the taxis you find at the airport.
Access to property
You have access to all areas of the property.
Interaction
We are always available to help or answer questions. We do our best to reply all requests. We also have an app for guests with all the important information about the property and other useful information for your stay.
Other observations
- According to Portuguese law, all guests are required to present a valid ID. (passport or identity card).
- Check-in hour must be scheduled in advance. If it is not scheduled within a maximum of 48 hours before, guests will be subject to the availability of our team.
- All bed linen and towels are provided. We can also put a baby cot, a high chair and a baby bath if needed, but you should request. There are a first aid kit, extinguishers and fire blanket in the property.
We want you to feel at home. We do not ask for more than respect for neighbours and care for the property, in addition to not smoking inside the house.
+ More
Less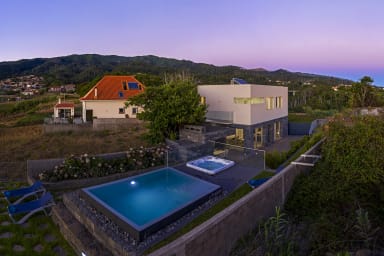 The Space
Accommodates: 4-6
Bedrooms: 2
Bathrooms: 3
Property Type: House
Check-in: 16:00
Check-out: 12:00
---
Amenities
Cleaning and disinfection

Contactless check-in and check-out

Laptop Friendly Workspace

Long Term Rentals Available
Amazing stay! Wish we could live here (that's how great it was)

From the title of this review you can already tell how amazed we were by this stay at Casa da Maloeira. We spent our first days in Madeira here and we wish we never left. This house had everything we needed for a very comfortable stay and the photos didn't disappoint. When we checked-in we were surprised by a tote bag welcoming us and fresh flowers - felt immediately like home. Talking about the view: you can actually see the ocean and the landscape is absolutely stunning. The rooms are comfortable, the kitchen has everything you need, all the amenities were in perfect condition and it felt like all the details were well thought out. 10/10 would stay here again and for a longer period of time, so we can fully enjoy.

June 2022

---

Jan-Philippe H. (

Germany

)

The pictures were promising, but this was our worst experience in terms of accommodation ever

Unfortunately, we can't recommend this place to anyone. We've even had health issues due to poor maintenance of the whirlpool! Positive: - The property and the house itself are beautiful, the view is great and there is a pool as well as a whirlpool - that's it! Negative: This is going to be a rather long list... - The whirlpool caused a hot tub folliculitis among all guests. While some only experienced minor issues my fiancé had severe symptoms. It happened around the 4th day of our stay. While scrolling through the reviews on booking we found that we weren't the only guests that experienced this. Quite shocking that the agency did not properly take care of this issue. - Cleanliness upon arrival was poor. We took off our shoes and after walking around the house for only a few minutes our white socks were brown. Really? - There were insects everywhere in the house. Only two windows had fly screens which made it impossible to let windows open during the day or night without inviting all types of insects from the outside - The bigger bathroom upstairs had two major issues: The shower screen had very poor waterproofing. After every shower half of the bathroom was flooded. The toilet was very prone to clogging. Only a few tissues too much and it was clogged. - Equipment: For such a modern house the equipment was dissatisfying. There was no dishwasher and only one trash bin for three lavatories. No vacuum cleaner, no AC - The storage room suffered from a very bad smell and the washing machine made the laundry smell like a wet dog - WiFi connection was ok in the living room, but poor as soon as you were upstairs or outside in-front of the house (no WiFi at all) The list goes on... But I don't have enough characters left to fully write my review. Do yourself a favor and stay somewhere else. The house is also located fairly remote and apparently built in a wind corridor with a temperature drop of around 4-5 degrees compared to e.g. Arco da Calheta.

September 2021

---

Andy F.

Great deal for vacation in western Madeira

Really great villa in beautiful landscape setting. We loved everything: whirlpool, nice infinity pool, great terrace with beautiful view, mini-supermercado in foot distance, quiteness, kitchen with good equipement and grill.

July 2021

---

O melhor

Foram 4 noites 5 dias de um verdadeiro descanso com todas as condições e um ambiente verdadeiramente relaxante! Muito bom!

July 2021

---

Robin S.

Enjoyed our stay

Positive: Pool, Whirlpool, overall House Ok: Cleanliness, Remote Area Negative: Nothing

June 2021

---